New Digication ePortfolios allow you to take a picture directly from your web browser with any webcam you have connected to your computer.

Please note: This feature is currently unavailable while using the Safari web browser. If you would like to use Take Picture for your ePortfolio, we recommend using either Google Chrome or Mozilla Firefox web browser.
First, select the Add Content button (1) in the lower right corner of your selected section.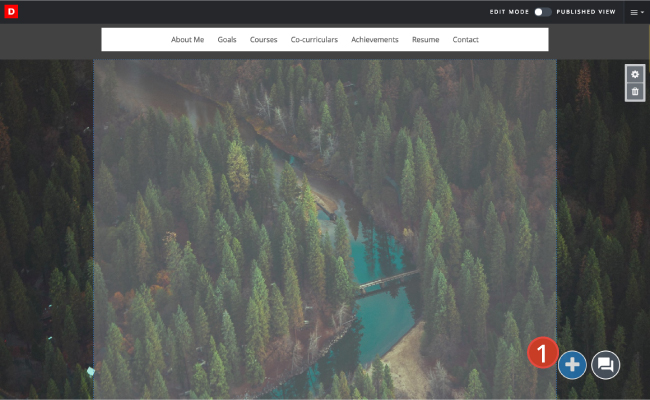 On the next screen, click Take Picture (2).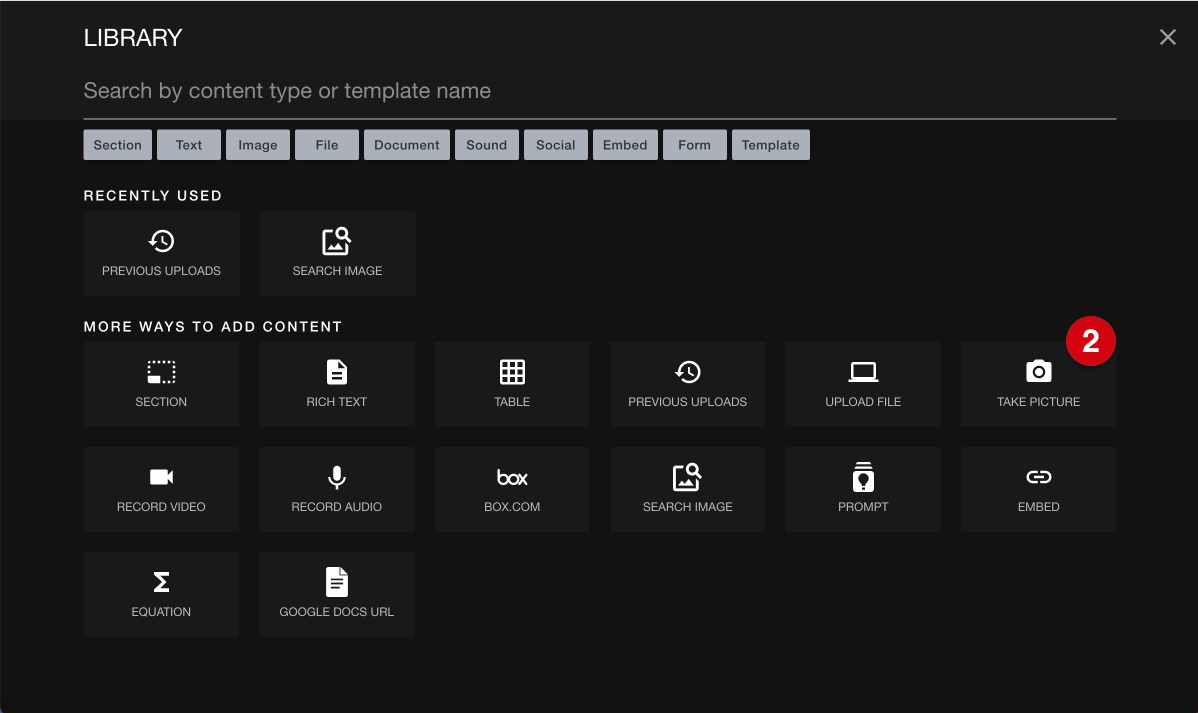 If this is your first time using your computer's camera with Digication, your web browser will prompt you to give dialog.files.digication.com permission to use your camera. Click Allow (3) to give your Digication access to your camera. The example below is what the permission prompt from the Google Chrome web browser will look like.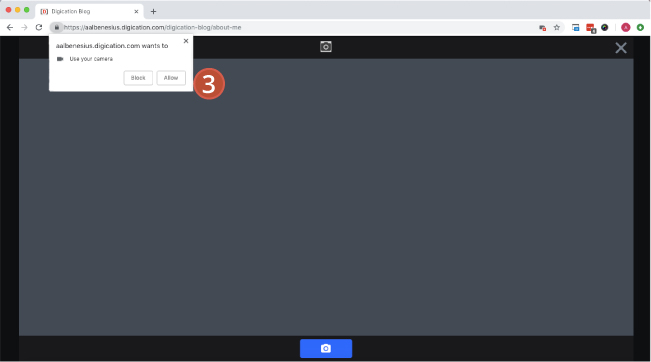 When you are ready to take your picture, click the camera button (4) at the bottom of your screen.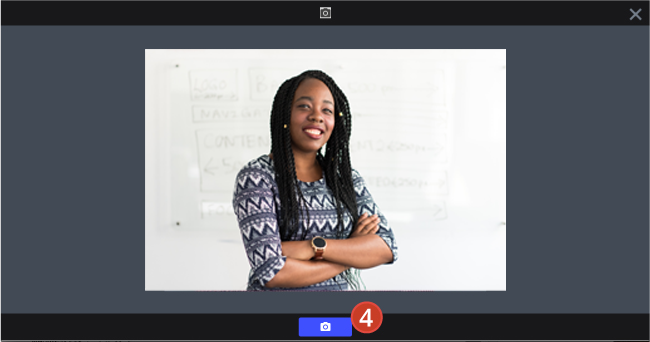 If you are unsatisfied with the photo, you can take another by clicking the camera button again.
After the image has been captured, click the Next button (5) to move onto the next steps.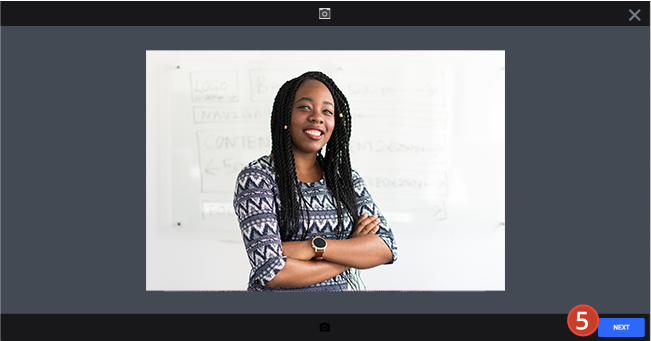 If you are satisfied with your photo, you can choose Upload (6), or Upload More (7) if you would like to capture additional photos. To edit your photo, click the Edit button (8).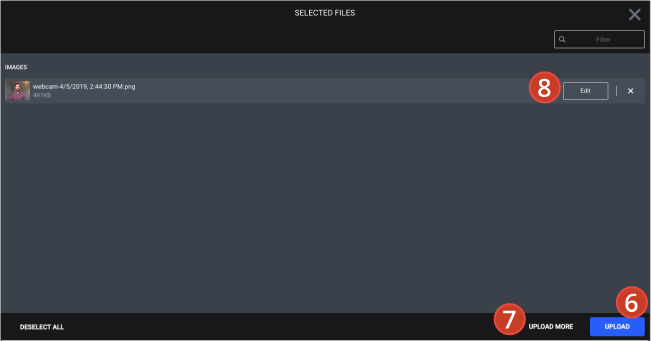 Editing Images
Using the Crop Tool
After clicking the Crop button (1), you will see handles at the corners of your photo (2), which you can drag to select the area of the photo to crop. When you are done, click Save (3).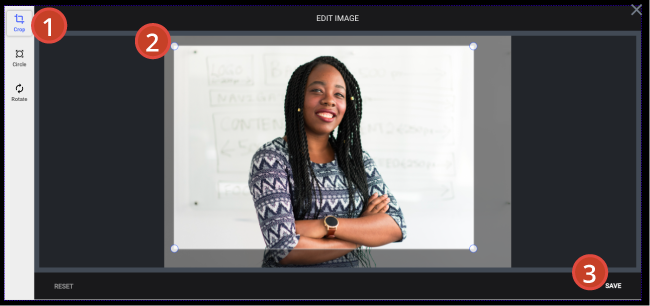 Using the Circle Tool
The Circle Tool allows you to create a circular frame around your picture. To use it, click the Circle button (1). As with the Crop tool, you can adjust the size and shape of the circle by clicking and dragging the handles at the corner of the frame (2). When you have positioned it where you want it, click Save (3).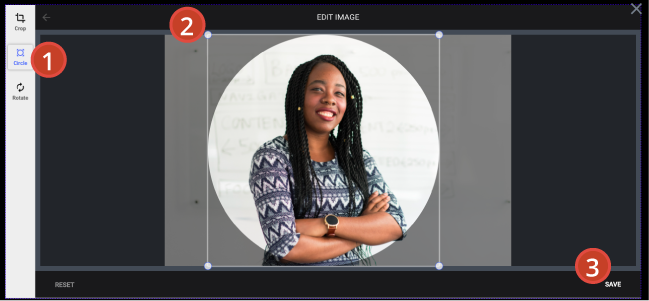 Using the Rotate Tool
To change the orientation of your picture, first click the Rotate button (1), which will bring up rotation arrows on either side of the picture (2), allowing you to rotate the picture in either direction. When you are finished rotating, click Save (3).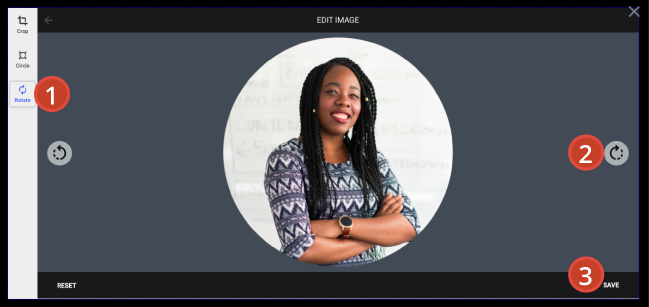 When you have finished editing your photo, click Upload (4) to place it within your active ePortfolio section.