Uploading files and adding content to your ePortfolio is simple and versatile. Your documents and media can be added by dragging and dropping a file from your computer directly onto the page or you can use the Add Content tool to locate the files you wish to upload. Files uploaded to Digication cannot be renamed or changed, but you can upload as many files as you would like up to 1GB in size.


Uploading Files with Drag and Drop
Adding documents or media to an ePortfolio is as simple as dragging the file from your desktop (1) and dropping it onto your ePortfolio page (2). When you drop the file on a page, it is uploaded to your Digication files and automatically placed into your ePortfolio. You can use this method to select and upload multiple files at the same time.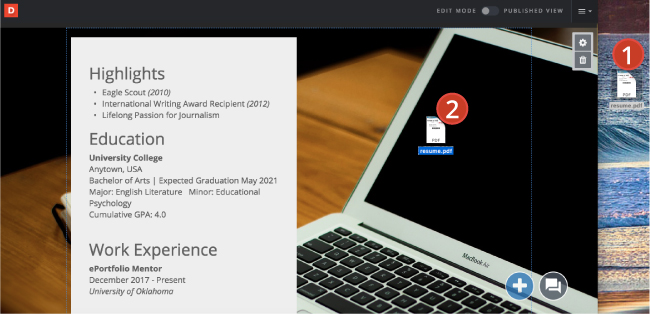 Uploading Files with the Content Tool
Files can also be added through the Library with the Content tool. Click the Add Content tool (1) in the lower-right section of your screen to access your Library.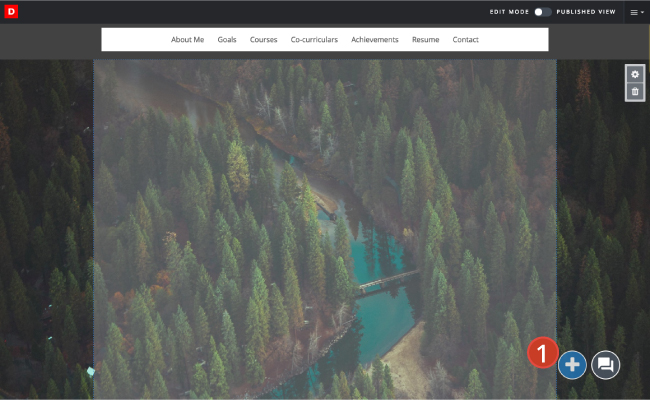 Next, select Upload File (2) from your Library.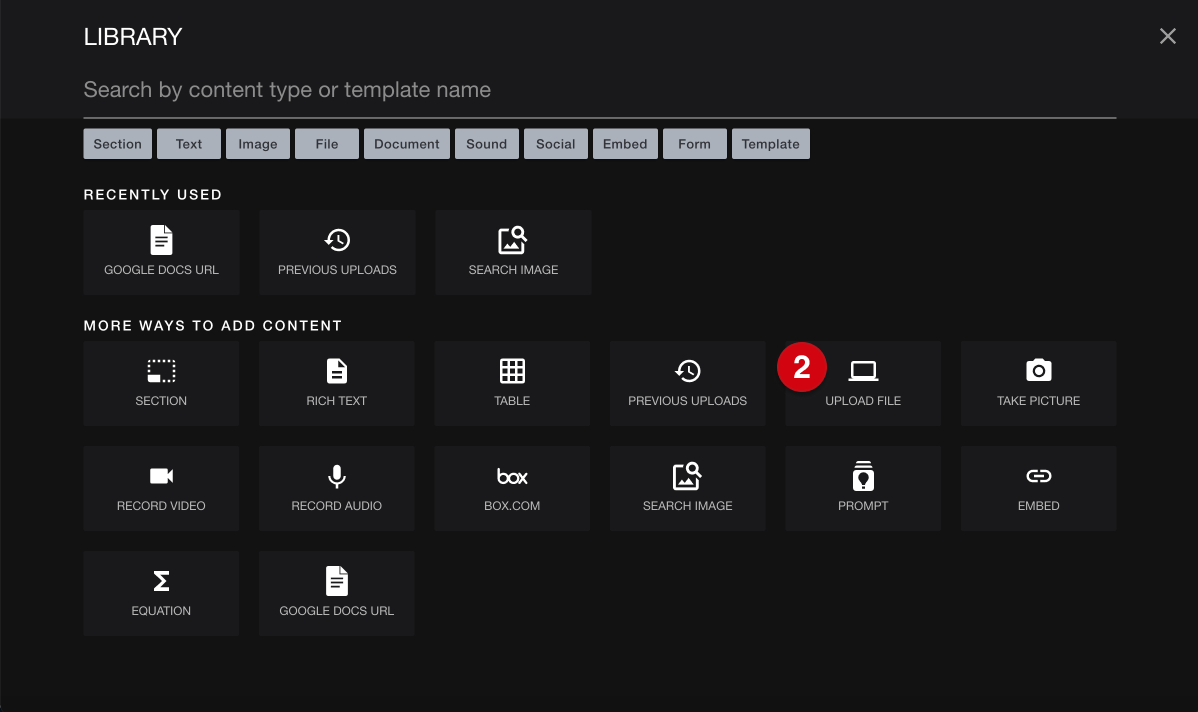 You can select the files you wish to upload by dragging and dropping onto the screen, or you can click the blue file icon to browse and locate files on your computer. You can use either method to select multiple files to upload to your Library.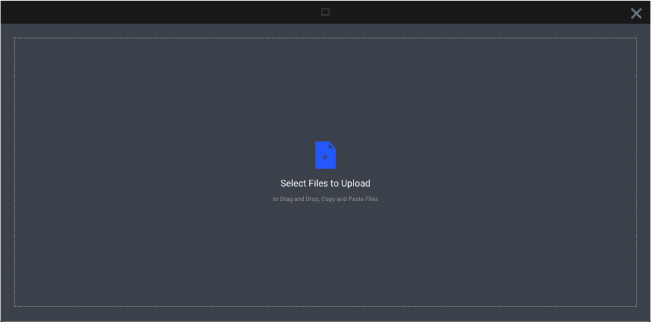 If you are uploading an image file, you will see a button labeled Edit (3). Click Edit if you would like to crop or make changes to the orientation of the image.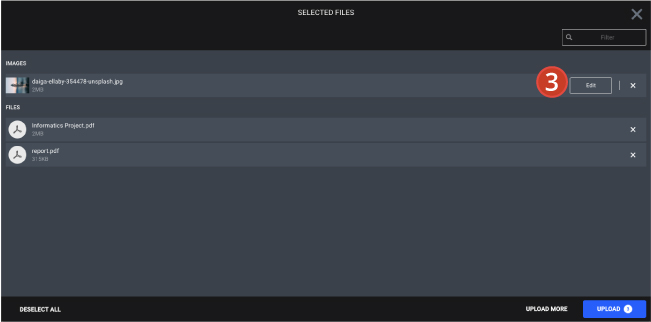 On the Edit page, you can use the buttons on the left side of the page to crop and change the orientation of your image. For instructions on using the image editing tools, please see our Capture Photos article. Please note: the maximum accepted image resolution is 100,000,000 pixels. If your image is larger than this, please resize before uploading.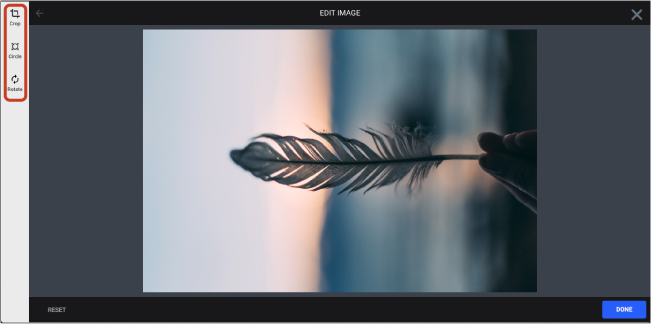 If you'd like to add more files, click Upload More (4), or Upload (5) if you are finished uploading. After your files are uploaded, they will be automatically placed into your ePortfolio.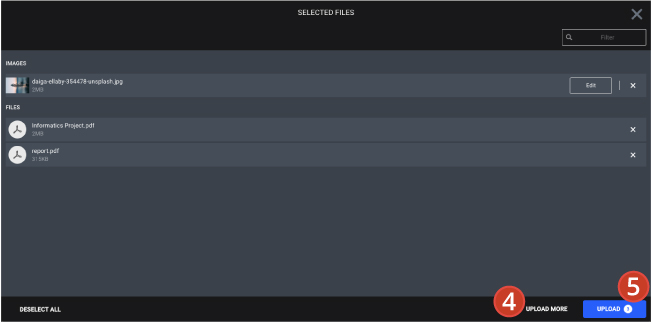 If you are uploading larger video or audio files, they may take time to process before being accessible in your ePortfolio. Depending on your Notification Settings, you will receive a Digication Notification when processing has finished.
Compatibility with Microsoft Office Documents
New Digication ePortfolios support displaying your uploaded Microsoft Word, Excel and PowerPoint documents, however there are some features and customization options that cannot be processed due to technical limitations.
Embedded media such as audio and video
Animated images
Slide transitions in PowerPoint
Please note: at this time, uploading a document embedded with an audio or video file will result in an error and the file will not be uploaded.

If you have a Microsoft Office document featuring any of these options and wish to display them in your ePortfolio, continue reading for some methods to display your document in your ePortfolio.


Transform your ePortfolio into the Document
New Digication ePortfolios are a versatile platform for displaying and disseminating content you provide. Whether your goal is to be informative or instructional, ePortfolios adapt to your needs with a wide range of customization options and media compatibility that brings your content to life. Click here to learn more about the features available in New Digication ePortfolios.
Record Your Presentation with the Document
If you wish to preserve and share your PowerPoint presentation as it was given, you can record a video of your performance and upload the file to display on your ePortfolio. This will allow your viewers to see your presentation as it was intended. You can also save your document as a PDF for your viewers to reference with the recording.


Save Your Document as a PDF
For documents that do not need to display any dynamic media, you can use Microsoft Office's built in save function to save your file as a PDF. When you save a copy of your file, select "PDF" from the list of file formats.


Upload Media Separately
New Digication ePortfolios are able to display embedded audio or video from files and links, as well as animated images. If your document is referencing media that can be presented outside of the file you are uploading, you can save your document as a PDF and upload your media files to your ePortfolio. Once uploaded, you will have a greater range of options to display your work and share it with anyone.