To help provide the best ePortfolio experience possible, Digication supports the current versions of following operating systems:
Windows

Mac OS

iOS

Android (versions up to two years old)
Supported Web Browsers
Desktop (Windows and OS X)
✔ Google Chrome (Recommended)
✔ Safari (Beta phase - see below)
✔ Mozilla Firefox
Mobile & Tablet (Android and iOS)
✔ Safari

✔ Google Chrome

Unsupported Web Browsers

✘ Microsoft Edge

✘ Microsoft Internet Explorer
Please note: Digication supports the latest versions of the browsers listed. We will try to support older versions of these browsers from the past twelve months, but cannot guarantee full support. If your operating system will not allow you to update to a current browser version, you may need to update your operating system first.
Using an unsupported browser can cause a variety of errors, including preventing a user from logging into Digication.
If you are unsure of your operating system and browser version, you can visit https://www.whatismybrowser.com/ for detailed information about your computer or device.
At this time, we do not support or recommend using the Microsoft Internet Explorer or Microsoft Edge web browsers with Digication. Using either of these browsers can lead to unintended results.
Editing ePortfolios in Safari on a desktop browser often results in highly undesirable results, such as modules being moved and the entire layout of the page being completely unrecognizable. As a result, we have decided to prevent users from editing ePortfolios in Safari on desktop browsers. If you attempt to access an ePortfolio in Edit mode through Safari, you will now receive the following notification: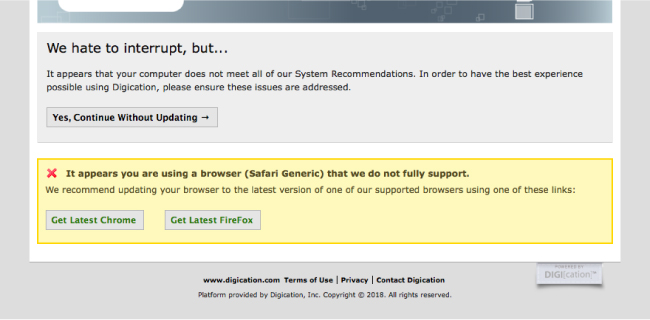 Update 6/25/21: We are now supporting Safari on a per-system basis. During this beta-phase of support, schools interested in using Safari to access Digication can opt in by contacting support@digication.com. At the end of the beta phase, Safari will be permanently added to the list of supported browsers.

We understand the need some schools have for these web browsers and are working towards better cross-browser compatibility with Digication. We appreciate your patience and understanding as we continue to work on these improvements.