Dear Community,
With the fall semester starting soon, we wanted to apply some fixes and planned changes with hopes that this will further improve the ePortfolio experience for new and existing users. From now on, we will provide a (2)two week notice for any user interface or logic changes, or we will provide a per-user or per-system option so Administrators can choose exactly when to release any new features. The exception to this will be if there are any security or stability emergencies that need to be addressed. You can click here to read the original announcement for more details.


ePortfolios created from Templates will not have the navigation header duplicated
When the Library was first released, it was reported that ePortfolios created from templates displayed duplicate navigation headers. After we released a fix, some users were still experiencing the issue. A deeper investigation revealed that templates made from July 13th to July 20th would still be affected by the issue.
If your Template is producing ePortfolios with duplicate navigation headers, the best option to resolve the issue is to locate the original ePortfolio used to make the bad template, and use it to make a new template. If you are unable to locate the original ePortfolio, you will need to recreate the ePortfolio and save it as a new template.


Features and integrations that are not yet available have been removed from the menus
With the fall semester coming up, we hope this will help both new and existing users navigate their options and set expectations on what they can do right now with their ePortfolio. We still have plans to release these options in the future and we will announce them when ready.


ePortfolio menu options have been consolidated into a single menu
Now that we have cleaned up the ePortfolio menu options, we felt that there were enough options left to consolidate into a single menu.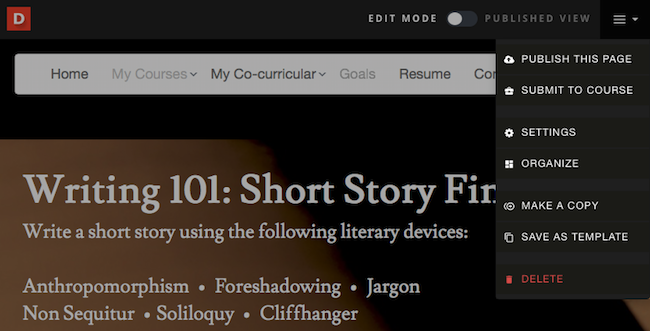 The remove button for background images always removes the background
Sometimes a background on a slide or rich text module would become stuck and you were unable to change or remove the background. If you would like to change your background, the remove button will now force the background to become empty.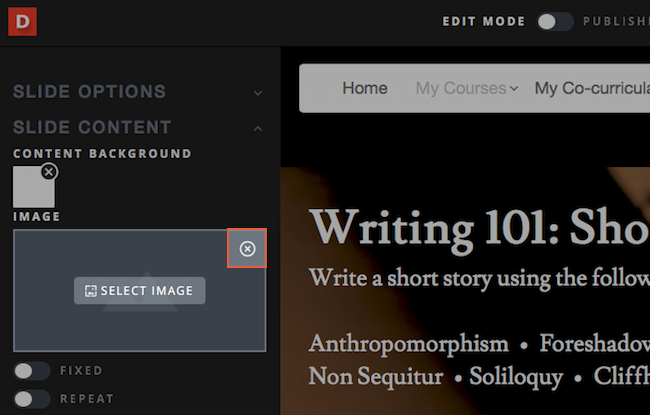 Slide and module buttons remain active while visible and are labeled correctly
There were some users that experienced an issue where the buttons on modules and slides would intermittently become unresponsive. This issue is now resolved and the buttons can be used when you have access to them. Also, the delete button is now labeled correctly.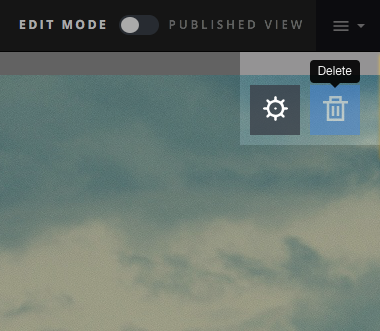 Slide content remains stationary when accessing Conversations
When users with smaller screens would open their Conversations, their ePortfolio content was being shifted off the screen. This has been changed so now the Conversations window will overlap any content instead of pushing it off the screen.


Prompts have better transparency controls
Prompt windows originally displayed a set transparency level that could make viewing the prompt difficult with certain backgrounds. Now there is a button that allows you to turn the Prompt transparency on or off.


New Digication ePortfolios shared with a course correctly display their directory icons
After a New Digication ePortfolio was shared with a course, the directory icon for the ePortfolio would be missing. This has been fixed so now all New Digication ePortfolios shared with a course will display their directory icon if one was added.

ePortfolio icons are displayed consistently across the Library
During times in the Library when your ePortfolios are visible (such as when adding a template to an existing ePortfolio) the directory icons for your ePortfolios will now be displayed correctly.


Numerous grammar changes were made in the Library
As you go through the Library and create or apply templates, you should notice that the on-screen dialogue is more grammatically correct.


Administrators
Activating New Digication in the Administration tools no longer displays a success message
Previously when New Digication was activated for a user, there was a success message at the top of the screen that sometimes would display the wrong message. Since the checkbox accurately displays if New Digication is activate for a user, we removed the success message from the user interface.
When New Digication is enabled and enforced for all users, you have the option to disable New Digication for individual users.
If you have enabled and enforced New Digication for all users at your institution, you now have the ability to turn New Digication off on a user-by-user basis. Similar to activating New Digication for a single user, you can go into the list of Users in the New Administration tools and deselect the checkbox for any user that you do not want to have access to New Digication.


We hope these changes help make creating your next ePortfolio an easier process. We would like to thank everyone for their continued feedback that helped guide the development of these changes. Changes such as these would be impossible without you, so please tell us what you think!

Kind regards,
Your friends at Digication