Dear Community,
We wanted to reach out and let you know about some of the bug fixes we recently completed as well as some text changes we are planning to make. 
Listed below are the bugs that have recently been fixed:
When there are multiple rows of pages on the Navigation Header, page menus that overlap the Navigation Header are difficult to read.

The color picker is displayed as a horizontal line instead of a box (Mozilla Firefox)

Template Notification emails are not being sent to the registered Notification email address 

The Settings button on the Header slide can become unresponsive
We are also updating the text in a few areas to make the information clearer and easier to read. Click here to read more about these changes along with the other updates announced in August.
Initial Privacy Settings Description
When you create an ePortfolio from a Template that has customized permission settings, the description of your initial ePortfolio permission settings may not be accurate and can cause some confusion. On September 8th, the permission description for new ePortfolios will be changed to "Your ePortfolio will be private initially, then you will be prompted later with the Template's recommended permission settings." to help avoid confusion.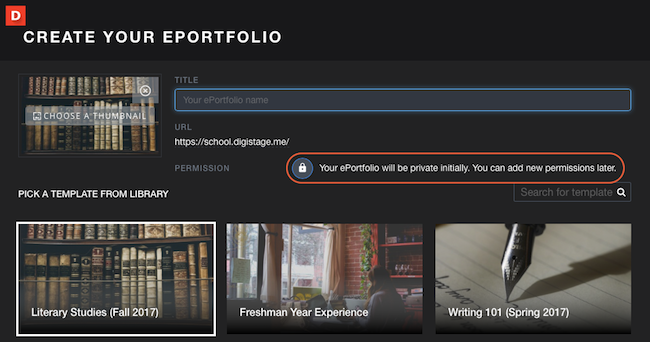 Introduction Text on Create an ePortfolio Modal Window
When you create a new ePortfolio from your Digication Dashboard and you have the ability to create a Classic or New Digication ePortfolio, you will see a short Introduction screen that has outdated text from earlier in the development of New Digication. On September 8th, the Introduction text when you create a New ePortfolio will be updated with a more accurate message.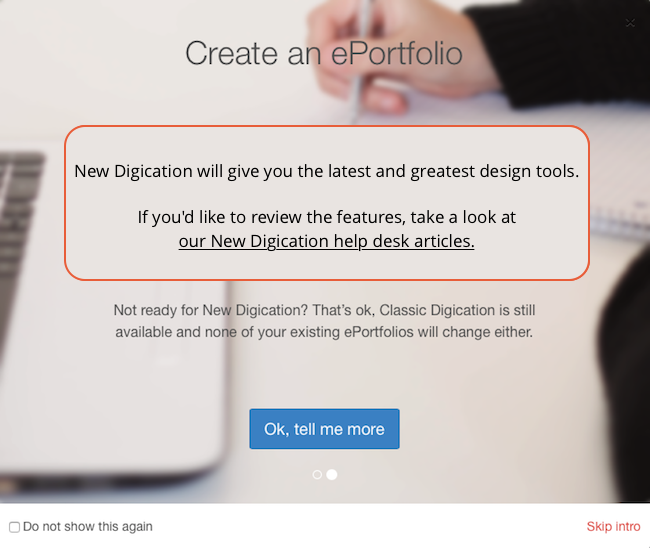 We hope these changes help make creating your next ePortfolio an easier process. We would like to thank everyone for their continued feedback that helped guide the development of these changes. Changes such as these would be impossible without you, so please tell us what you think!

Kind regards,
Your friends at Digication