Dear Digication Community,
We wanted to reach out and let you know about some recent changes to New Digication ePortfolios and a planned update for the Header slide.


Digication Login Page and iFrames
If your institution embeds the Digication login page as an iFrame, a future update to Google Chrome may interfere with your users' ability to log in through the embedded page. Chrome will update to version 64 in January 2018 and with it, prevent third-party content in iFrames from auto-redirecting browser navigation to other web pages. This update will only affect auto-redirecting from an iFrame, not navigation prompted by the user such as clicking a link within an iFrame.
If you log in by navigating to your institution's customized Digication URL (e.g. https://yourschool.digication.com/) or utilize an LTI connection like Blackboard or Canvas, your login experience should not be affected by this update. Likewise, any institution that has had custom text, links, or images placed on their logged-in or logged-out dashboards will not be affected by this update.


Connections to Google Services
It was recently discovered that third-party connections to Google Drive, Photos, and Gmail can remain logged in after the user has logged out of Digication. While our development team investigates the issue further, we have temporarily changed the way New Digication ePortfolios handle Google connections.
Now after you authorize a connection to a Google service and log out, all Google connections will be automatically terminated and need to be reauthorized during your next session. We understand this can be an inconvenience to some of our users, but we feel this temporary change will help keep your personal information and files safe and secure. We will update our Administrators when a more permanent solution is in place.


Header Slide Focus
Based on recent feedback, our developers have been working on a change with how the Header slide displays that is in focus. Starting on December 19th, when the header slide is selected in Edit mode, the other slides on your ePortfolio will darken and a yellow banner at the top of the page will notify you that you are editing the Header slide. We feel this change will help bring awareness to the user that any added content or changes made are being done to the Header slide.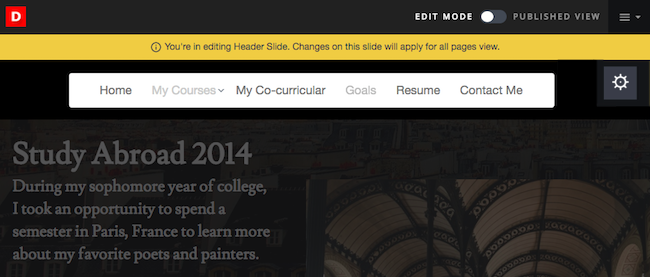 Supported Web Browsers
Recently, there have been updates to the Safari web browser that has diminished primary functionality with New Digication ePortfolios. Currently, Safari is unable to utilize the Record Audio, Record Video, and Take Picture features that require your permission to use your computer's camera and microphone. Also, the Edit button on content modules is unable to be clicked which prevents users from selecting new content to display in an existing module. While our development team investigates long-term solutions for this issue, we have moved Safari to our list of unsupported web browsers.
At this time, Digication supports browser versions from the past twelve months for Google Chrome and Mozilla Firefox with New Digication ePortfolios. Click here to access our help desk article about supported web browsers for New Digication ePortfolios. 


We hope these improvements help make creating your next ePortfolio an easier process and the information helpful. We would like to thank everyone for their continued feedback that helped guide the development of these changes. Changes such as these would be impossible without you, so please tell us what you think!


Kind regards,
Your friends at Digication