Dear Digication Community,
In keeping with our commitment to providing a minimum of two weeks' notice of any changes to our user interface (UI), we wanted to let you know about improvements that will occur during the week of March 13, 2023. No system downtime will occur when these improvements are implemented. We have also included a list of other improvements and bug fixes implemented.
Organizer Tool
In order to be more consistent with our naming conversion, the "ePortfolio Organizer" will be renamed the "Organizer Tool" (1, 2).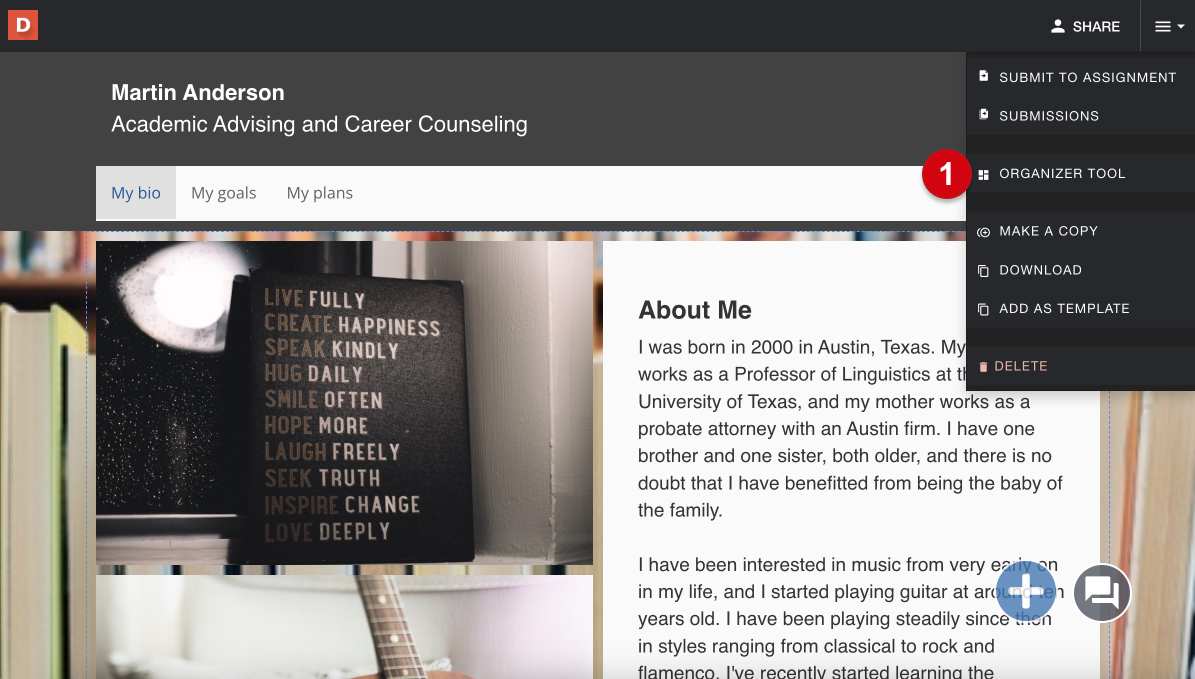 Template settings heading change
To provide more clarity, the "Template default settings" heading under "Template settings" will change to "Recommended sharing settings for users of this template" (1, 2).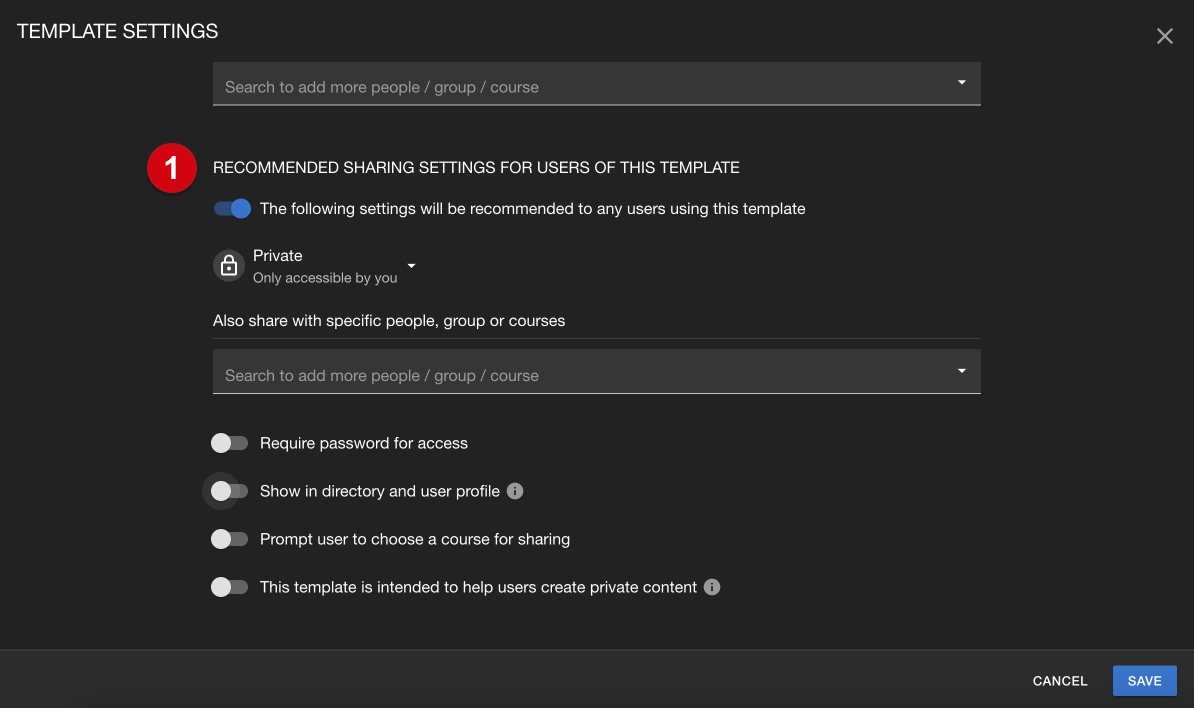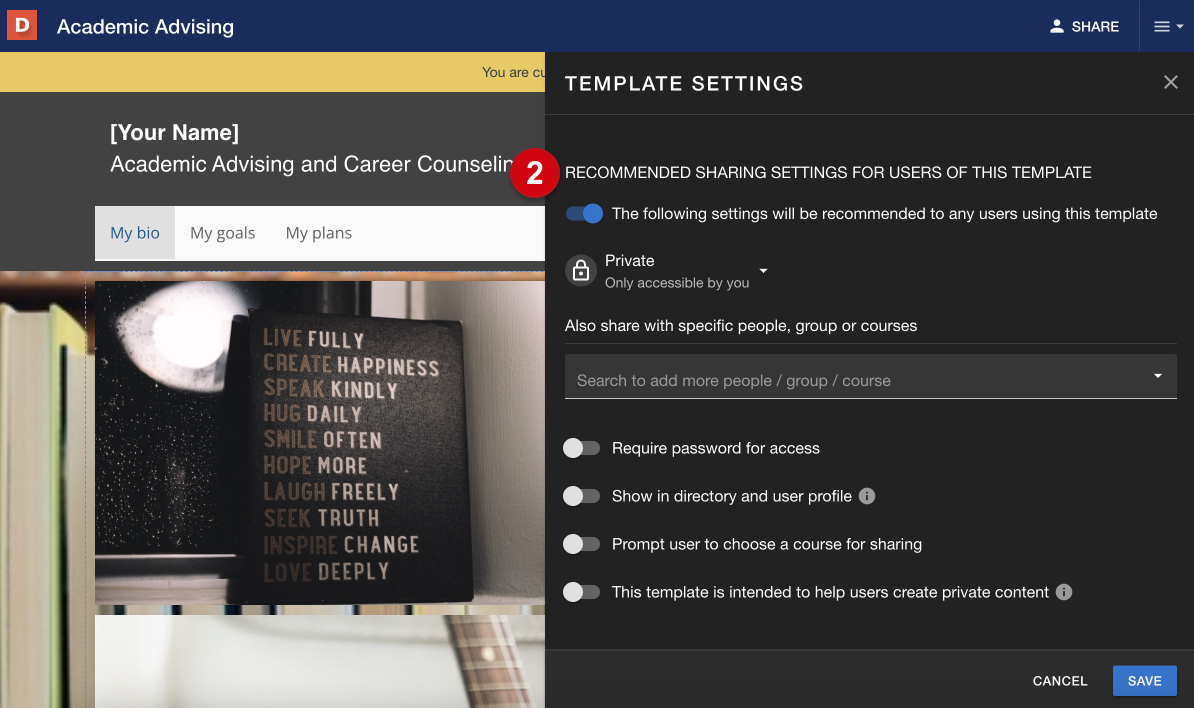 Other improvements and bug fixes
In recent months, we have implemented the following minor improvements and updates:
Template sharing notification option
Added new fonts from Google fonts library
Overall upgraded UI for "Add new content"
Ability to share link to the ePortfolio directory with filter options
Upgraded image resize to be faster and more informative
Corrected heading level and improved formatting for Instructions sections' "INSTRUCTIONS - Only viewable when editing" header
Set "list in ePortfolio directory" toggle to on by default for ePortfolios
Updated course search to show newer courses first
A11y/accessibility-related improvements and bug fixes for the following issues:
Added ability to open left navigation bar with keyboard
Added information needed by screen readers to Digication [D] label
Added section name to module label
Added screen reader announcements for ePortfolio creation progress
Both embedded content and image visible at the same time in media module
Added announcement of captions for audio/video/image
Corrected button labels in Organizer Tool
Added keyboard access for copying from one ePortfolio to another in Organizer Tool
Fixed problem with moving module when using JAWS screen reader
Fixed problem with JAWS screen reader not reading drop-down label in People Page search by course
Added ability to reorder items in image gallery grid view using keyboard
Made hover colors show when links accessed via keyboard
Exiting from full screen mode would unexpectedly return focus to top of screen
PDF files are read unexpectedly without user interaction
Added ability to copy/paste pages using keyboard in Organizer Tool
Navigation bar obscuring modules in some cases
Made "delete template" non-case-sensitive
We have also fixed bugs that were causing the following issues:
Session timeout malfunctioning
Failing to remember original URL destination (such as a private ePortfolio) after log in
Disappearing Conversations
Graded status not showing in summary view
Module background not showing when Module Name enabled
Inability for admins making submissions on behalf of students
Sending notifications not working
Slow video file processing
Course with pending invitations not showing roster
Formatting problems in some course pages
Problem viewing ePortfolios in Canvas
Notification problem following CSV import
Thumbnails broken in URL sharing on social media
Changes in system EULA not triggering prompt for user agreement
Exit full screen button not visible when image viewed in full screen
Background image with "fixed" settings not working in Firefox
Corrected spelling error in template creation screen
Template settings changes not saving
Statistics x-axis sorted alphabetically instead of numerically
Navigation bar not rendered properly in downloaded ePortfolios
Left-side navigation opening unexpectedly after page load in mobile Chrome
Password reset was generating email for users with multiple accounts across multiple systems
ePortfolio downloading taking a long time
Assignment notification link not working properly
Notification problems when faculty or admins submit work on students' behalf
"Unexpected error" when trying to submit through course
"Add" column too small to be used when adding students/faculty to courses using zoomed-in browser
Problem adding subtitles to video
Downloads from linked files and display URLs not working
Problem with "Add Video" button
Typo on ePortfolio creation screen
Delete option not appearing in gallery module grid view
Gallery displaying improperly on mobile
Newly-created admin groups already having users assigned and permissions set
Download file link from email notification not working
Exit full screen unexpectedly increasing module size
Image upload button partially hidden on iPhone
Browser detection issue on iPad
Template approval notification missing
ePortfolio download errors
Course search no longer searching course sync IDs when setting ePortfolio permissions
Non-working Github Module removed from Library
Rubric search function not working
Standard selection box too short
Drop down panel in user panel not fully visible
Template search in "Add new content" not working
Problem embedding media in gallery module
Uploading more than one file to gallery not working
Uploading multiple images at once to new module not working
Changing text size in Formula Module deletes module contents
Adding template from ePortfolio in LMS results in a page not found error
Special admin group lacking "Add new rubric" button
Embedded content not displaying and files failing to download in downloaded ePortfolios
Problems attaching files to text in certain conditions
Module tools inaccessible or missing
Conversations "Send" button disappearing if too much text added to Conversations window
Problem with Conversations UI showing in published pages without logging in
Images broken in "Previous uploads"
Image crop tool missing in some systems
Broken ePortfolio when wrong file selected for subtitles
Previous upload being fetched unexpectedly when opening File manager
Conversations inaccessible
Video recording uploads stopping at 99%
Problem with Unsplash thumbnail search
Embed preview showing nothing
Course search breaking when results include multiple pages
Advanced course search throwing error when date-restricting results is attempted
Problem with deleting template from library when template is open
Problem preventing searching for individuals to add ePortfolio permissions for them
ePortfolio creation not working
Problem preventing admins from sharing templates with courses in which they are not enrolled as faculty
Timeline embed not working
Problem sharing ePortfolio with users in other systems
In templates set to "Private within [your school]," adding person to template not working correctly
Changes to template title/URL not saved when using "Add as Template"
LTI template sharing workflow issues
Roster-only courses not appearing in Share settings search
Images not showing in exported ePortfolios
Read/write access not working as expected for administrative groups
Add/remove admin user from Administration > Courses causing error
Template "View all" button taking to search instead of listing templates
Problem uploading multiple files into Prompt module
Library "Previous upload" panel missing
Library "Previous upload" panel not able to be closed
Gallery viewing options unavailable to mobile
Problems with .HEIC file photo orientation
Share settings not saving properly
Problems with Share panel permissions search in ePortfolios and templates
Conversations comments not appearing in submission review
Conversations unexpectedly archiving
If you have questions or feedback, as always, we encourage you to reach out to our team at support@digication.com.
Kind Regards,
Your Friends at Digication