The Course Settings page gives you quick access to everything you need to manage a course. To access, select the
Settings
tab from within the course.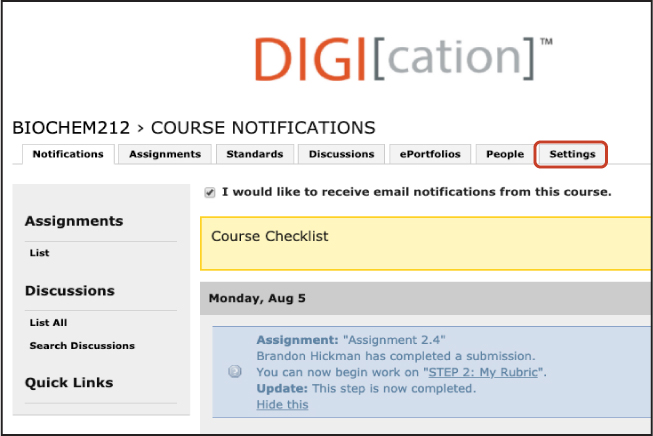 You will arrive at the following screen, where you can view and update course details, and can find the course settings navigation menu.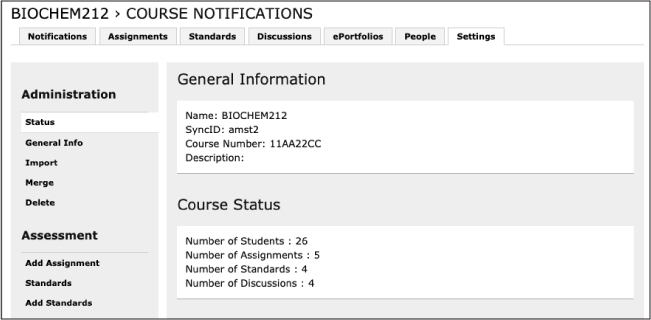 Updating Course Details via Course Settings
To update course details, first select General Info (1) from the left side menu.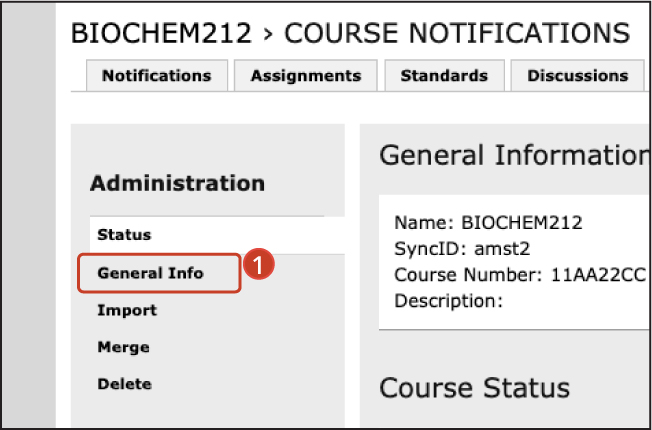 You will arrive at the following screen where you can update the course details listed below: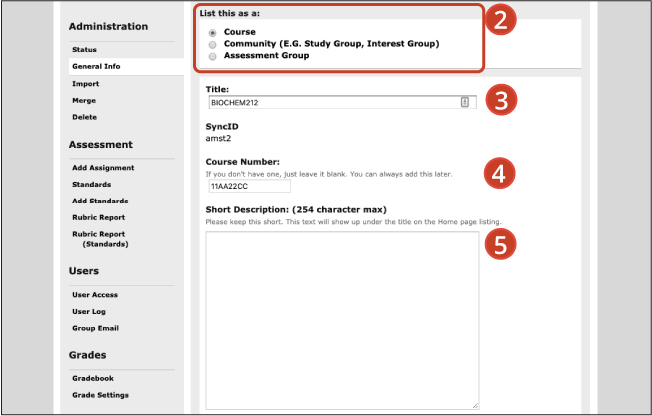 Course, Community, or Assessment Group (2) - First, choose whether you want this to be listed as a course, community or assessment group.
Note: Assessment groups are only available if your school has access to the Assessment Management System
Courses, Communities and Assessment Groups have the same functionality, but show up in different sections of your dashboard. You can use courses or assessment groups to distribute course or program materials, engage in online discussions, and if you have access to the assessment management system, add assignments correlated to your school's standards or objectives. You can use communities for purposes such as clubs, groups, or internal training.
Title (3) - The title of your course shows up on the dashboard and on every page of your course.
Course Number (optional) (4) - Entering the course number can help administrators at your school manage courses.
Short Description (optional) (5) - This description will show up on the dashboard under your course title, so keep it short, preferably a sentence or less.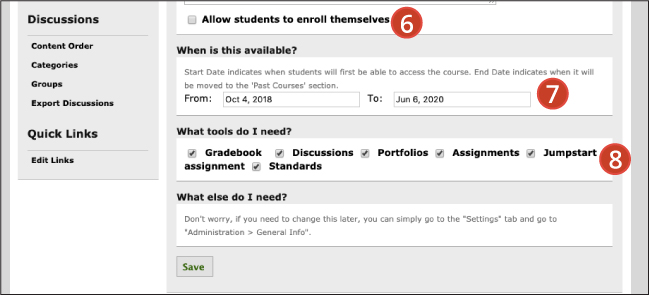 Allow Students to Enroll Themselves (6)
Availability Dates (7) - Choose start and end dates for your course. Between these dates, everyone with access to the course will see it on their dashboard. After the end date, they will have to click Show Past Courses to access the course.
Tools (optional) (8) - This is the area where faculty can specify what types of course tools they will need to have access to. Here's a breakdown of what's available:
Gradebook: Allows faculty to create assignments within the "Discussion" tab of a course that are numerically or alphabetically graded.

Attendance: Allows faculty to generate an attendance roster for the students enrolled in their class that can be used to track attendance and exported as a CSV.

Discussions: Houses both standard discussion forums as well as the ability for faculty to upload course materials and create gradable assignments.

Portfolios: Creates an "e-Portfolios" tab within a course that can be used to quickly access all of the ePortfolios shared with a course.

Assignments: Not to be confused with the gradable assignments that are created in the "Discussions" tab and populate the gradebook, the "Assignments" tab within courses are used to create multi-step assignments used for scoring with rubrics or against institutional standards.

Jumpstart assignment: Where enabled, this creates a one-step assignment for faculty to build off of when they first create their course.

Standards: The "Standards" tab within courses is where faculty can attach institutional or programmatic learning outcomes to assignments within the "Assignments" tab.
Course Settings Navigation Menu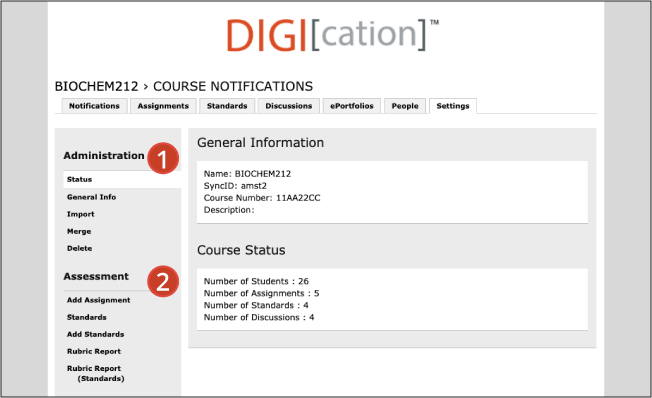 Administration (1)
View and edit general information about the course or delete a course.
Assessment (2)
(This feature is only available to users who have access to the Digication Assessment Management System) Add Assignments and manage Assessment of student work by adding Standards to your course.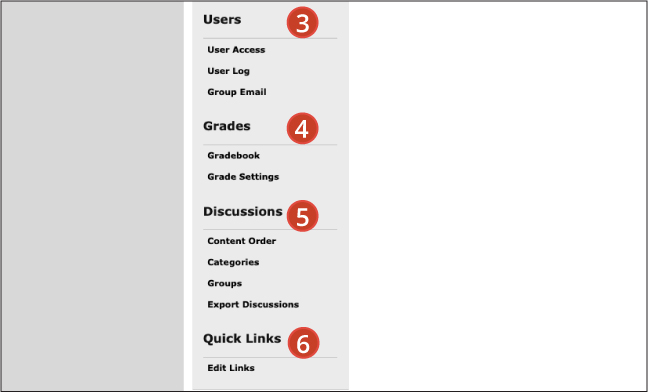 Users (3)
Control who has access to your course, track attendance, view course access logs, and distribute group emails.
Grades (4)
Grade student work right in Digication using the Gradebook. Customize grade settings to match your school's grading policy or your syllabus.
Discussions (5)
Create online, threaded discussions with ease and manage the order they display, the categories you need to label your discussions, create groups of students to view specific discussions for team based and collaborative communication, export discussions to access your course content without connecting to Digication for archival purposes, or if you need to access course content without an internet connection, or import discussions from a previous course.
Quick Links (6)
Quick link are links will display on the left menu inside all your course pages. If you have website you want your students to view on a regular basis, this is a great place to store them. Click on Edit Links to add and edit quicklinks.