What is a Template?
Think of a Template as a ready-made ePortfolio framework in which to add and customize your own content. A Template may consist of one or multiple pages and may also include instructions and sample content.
Here is an example of a page that you might find in a Template. It contains an Instructions section (1), which provides guidelines on the type of content you should be uploading to the page. The Instructions section is only visible in Edit Mode. Below the Instructions section, is a Rich-Text module (2), which contains more specific instructions on what you should include in that particular module. After reading these instructions, you would click the Edit button for the module, and then replace the text with your own.
Why use a Template?
In order to create an ePortfolio, a user must choose a Template. Digication provides each school with default templates, which are available to all users, and many schools also have customized templates specifically for their school community.
Templates are useful to provide scaffolding and resources to support ePortfolio development. Because templates provide a beginning framework and may include design elements, sample content and layouts, they may save time when creating an ePortfolio. Additionally, templates may include instructions and prompts to provide guidance on what content you should be adding to your ePortfolio.
How do I Access Templates in Digication
There are two ways to access Templates in Digication. The first is by creating a new ePortfolio. The second is by adding a template to an existing ePortfolio.
Please see the following articles for further information regarding accessing your Templates.
Create an ePortfolio from a Template
Adding a Template to an Existing ePortfolio
Common Questions about the Digication Library
How are Templates created?
Though they can be created by anyone, Templates are most often created by course instructors in order to be shared with students. Often, an instructor or administrator will create an ePortfolio that contains a specific structure, as well as prompts, which provide guidance for students who will be using the template to create their ePortfolios. Then, they will create a Template from the ePortfolio and share it with their students. Later, when the students select the Create button or Add Content button, they will see the Template as an option from which to start their ePortfolio.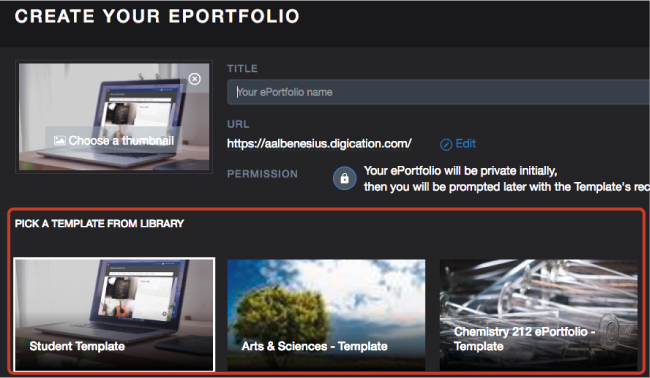 What are the major differences between an ePortfolio and a Template
An ePortfolio is meant to show off student work, whereas a Template is a tool for creating an ePortfolio. An ePortfolio can be continually edited and uploaded, while templates can also be edited to modify their design and content after being created.