Dear Digication Community,
We hope this message finds you well!  As a new semester approaches, we wanted to let you know about some exciting updates to our existing features which will be released on January 16, 2019, as well as a few general updates and bug fixes.
ePortfolio Organizer
We are introducing an upgrade to our ePortfolio Organizer, incorporating new capabilities to streamline the process of creating layouts and arranging ePortfolio content.  The new Organizer will use a split screen interface, allowing simultaneous viewing, as well as drag and drop organizing, between two separate ePortfolios, or two separate pages in a single ePortfolio.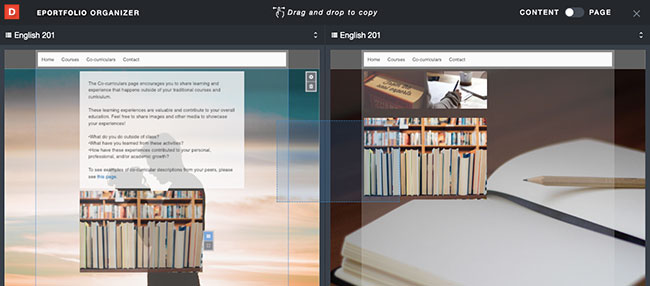 In addition to the existing Organizer tools, which allow you to easily arrange modules and slides on a single page, the updated Organizer will allow you to:
Copy a module or slide from one page to another

Copy a module or slide from one ePortfolio to another

Copy a single page from one ePortfolio to another

Copy a parent page and its subpages from one ePortfolio to another

Duplicate a page within an ePortfolio
Superscript and Subscript Added to Text-Editor
We are expanding the Rich Text Toolbar to include options for adding subscript or superscript to your Rich Text module.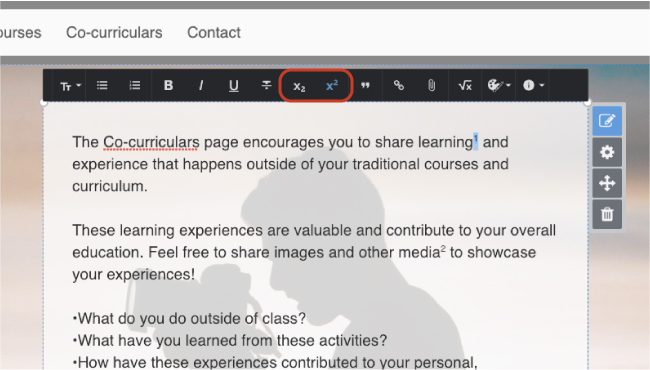 Code Files
Digication ePortfolios will now display the formatted, inline code for code files added through the Upload File tool, or the Previous Uploads tool.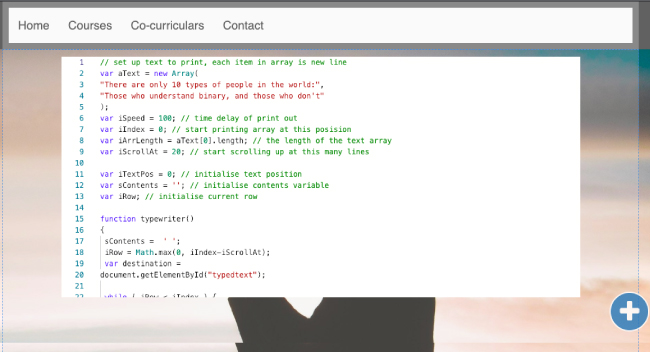 General Updates / Bug Fixes
The following fonts will soon be available in Digication ePortfolios:

Comic Sans MS

Courier

Courier New

Lucida Console

Lucida Sans Unicode

Palatino Linotype

Tahoma

Symbol

MS Sans Serif

MS Serif

The order of Permission roles in the ePortfolio settings will now be shown in ascending order of access.

We have fixed a bug that resulted in improper sizing of the tooltip that appears when clicking a hyperlink in Edit Mode.

We have fixed a bug that prevented users from applying a new slide opacity when using the Apply Styles tool.
We look forward to making these updates available to you and hope they will improve your overall ePortfolio experience! Full documentation for these improvements will be made available at the time of release.  If you have questions or feedback in the meantime, we encourage you to reach out to our team at support@digication.com.
Kind Regards,
Your Friends at Digication