This Spring, we launched our brand new Digication Student Scholars Program.  The inaugural cohort consisted of five students, representing four different universities.  Over the course of the semester, the Student Scholars were asked to complete three projects centered around Digication ePortfolios with the goal of creating a productive and lasting relationship between Digication and the campus community, while educating students on ePortfolio use.  
The projects that the Student Scholars were asked to complete included:
Writing a blog post about ePortfolio best practices.

Hosting and promoting an on-campus workshop to educate peers on a particular aspect of ePortfolio use.

Creating a public ePortfolio on a topic of their choice to be entered into the Student Scholars Showcase competition, judged by faculty from other universities who are members of the wider Digication community.
The Student Scholars Showcase competition commenced on April 12.  The ePortfolios submitted by the Student Scholars are quite impressive, both in the creativity displayed, and in the range of topics and experiences represented. The winner will be announced on April 23.  In the meantime, you can view the blog posts and Showcase ePortfolios by visiting our Student Scholars Overview ePortfolio here.  Links to the Showcase ePortfolios are also provided below.
 Student Scholars Showcase ePortfolios
Shivani Dimri - University of Virginia
https://studentscholars.digication.com/shivani-dimri-digication-student-scholar-showcase/home-1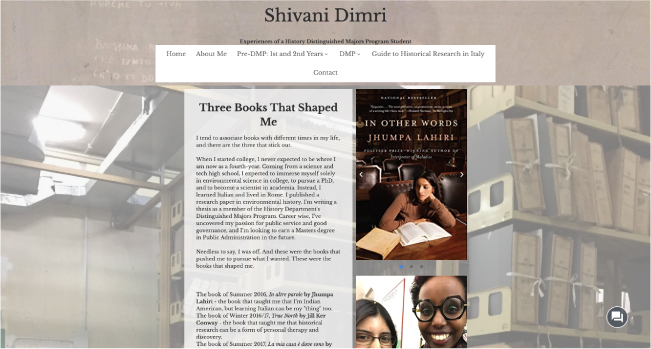 About Shivani's ePortfolio: Shivani chose to focus her ePortfolio on her experiences in the Distinguished Majors Program (DMP) at UVA.  As a double major in History and Environmental Science, Shivani's research and thesis in the Distinguished Majors Program focused on the use of aerial imagery in the Italian colonization of Ethiopia in the 1930s and 40s.  In her showcase ePortfolio, she reflects on her research and provides tips for peers who may be undertaking historical research.
Allyson Niitani - University of Puget Sound
https://studentscholars.digication.com/allyson-niitani-study-abroad-student-scholars-showcase-submission/welcome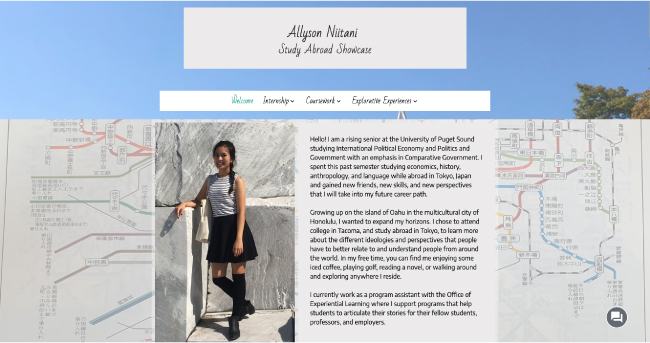 About Allyson's ePortfolio:  Allyson spent the Fall 2018 semester studying abroad in Tokyo, Japan.  Her ePortfolio is an overview of her experiences, including her expectations going into the program, her coursework in Tokyo, and her key takeaways from the experience.
Solimar Kwa - University of Virginia
https://studentscholars.digication.com/solimar-kwa-art-2610-april-13-2019-submission/home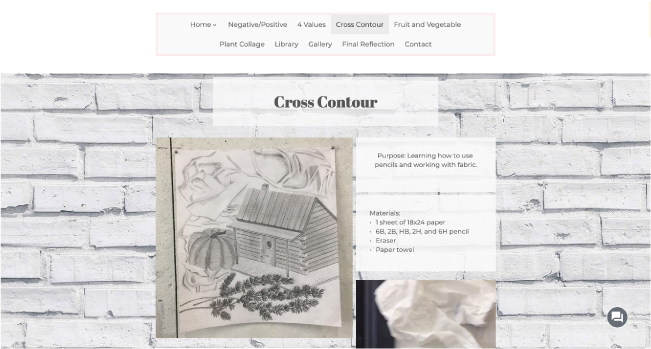 About Solimar's ePortfolio:  After taking an Introduction to Drawing course, Solimar decided to user her ePortfolio to showcase her work in the class, organized by the different techniques that were taught over the course of the semester.  Throughout, she reflects on the challenges she faced and her progress as an artist.
Kristen Javis - Manhattanville College
https://studentscholars.digication.com/kristen-javis-resume-submission/home-1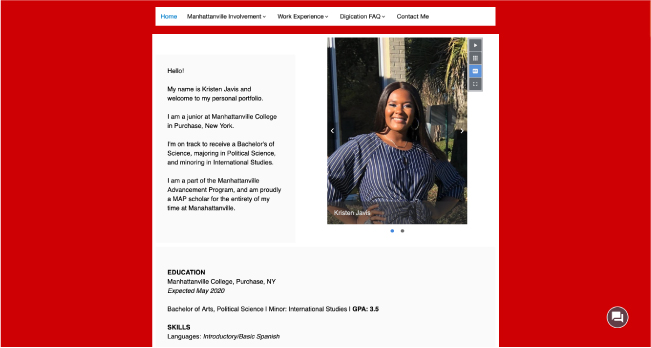 About Kristen's ePortfolio:  Kristen's entry in the Showcase Competition is both a personal resume ePortfolio, as well as a reflection on using ePortfolio for career-advancement purposes.  It makes great use of embedded videos to provide tips on customizing an ePortfolio for career purposes.
Lauren Watkins - Chattanooga State Community College
https://chattanoogastate.digication.com/becoming-a-chattanoogan-tips-from-a-local/home-1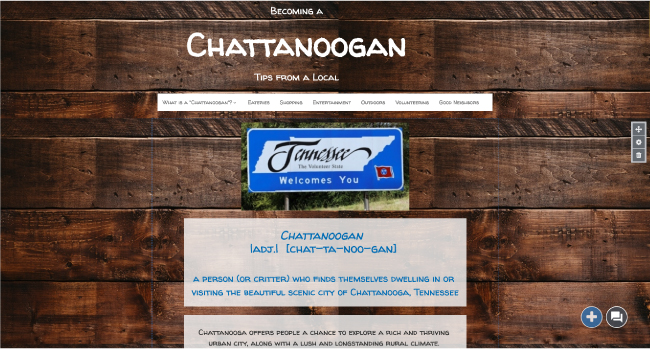 About Lauren's ePortfolio: Lauren brings her love and knowledge of her home city, Chattanooga, to the pages of her Showcase ePortfolio.  With an attractive, rustic design, the ePortfolio gives a run-down of things to do and places to eat in the city, with numerous clickable images which direct the viewer to the websites of the places she is highlighting.