Dear Digication Community,
We hope this message finds you well!  We'd like to provide a quick update regarding our LinkedIn embed module, and let you know about some recent improvements and bug fixes.
LinkedIn Embed Functionality Restored
On May 19, we announced that our LinkedIn embed module was temporarily inaccessible, and provided workaround steps for showcasing your LinkedIn profile without using the module.  We are happy to announce that the Linkedin embed module is once again accessible, and boasts an improved layout: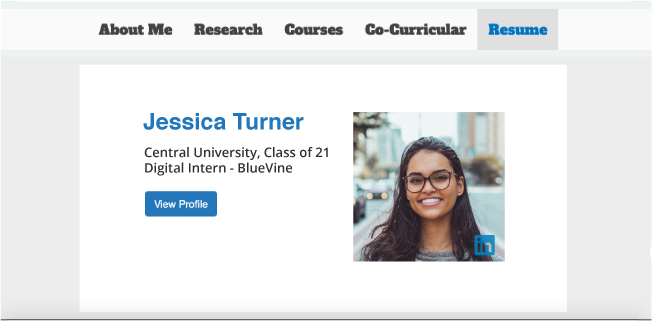 The LinkedIn embed module is now the same width as other modules, and now displays the profile picture and title of the individual, along with the View Profile link, resulting in an elegant way to display your Linkedin profile within your ePortfolio
General Updates and Bug Fixes
 In recent months, we have implemented the following minor improvements:
HEIC files are now supported in the gallery.

We have improved our Soundcloud Embed feature.

We have upgraded our integrations error message to apply to all Learning Management Systems.

We have removed unnecessary padding which was appearing at the bottom of ePortfolio pages in Published View. 

We improved the naming conventions for downloaded ePortfolio files.

To avoid confusion, we have removed the button for enable text prompt in the header slide settings.

We have limited the font-size of module names in order to make ePortfolios more mobile friendly.
We have also fixed bugs that were causing the following issues:
Users unable to unzip downloaded ePortfolio zip files

Abnormal sizing for certain embedded videos

"Interacting With Header Slide" notification appearing erroneously

"Record Video" not working properly on iPhone

Auto-save not functioning properly, preventing ePortfolio edits from saving properly

Users occasionally unable to reset passwords 
If you have questions or feedback, as always, we encourage you to reach out to our team at support@digication.com.
Kind regards,
Your friends at Digication