ePortfolio Categories provide an easy way for schools to group ePortfolios by shared themes or characteristics, thus making them easier to find using the school's ePortfolio directory. For schools with thousands of users, this is an invaluable organizational tool, making it far easier to manage and access the high volume of ePortfolios created.
For more information on using ePortfolio categories in the ePortfolio directory, see the following article: ePortfolio Directory
New categories must be created by system administrators through the New Administration tools. These can be accessed by logging in and appending "/administration" at the end of the Digication institution URL, for example: http://yourschool.digication.com/administration.

You will arrive at the New Administration tools screen. From the menu on the left side of the screen, select ePortfolios (1).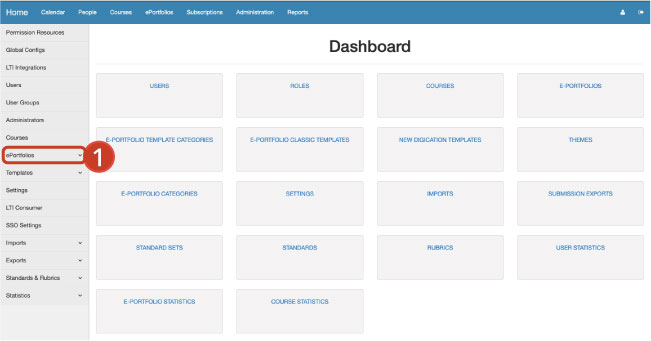 From the expanded ePortfolio options, select Categories (2).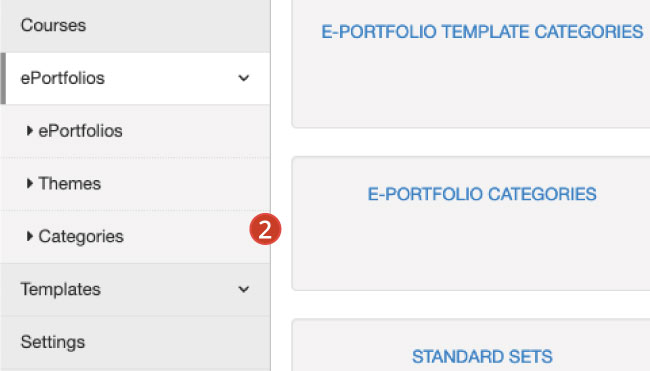 Here, you can view and edit your existing ePortfolio Categories, which are organized into category groups (3). Category groups simply provide a way to organize individual categories. Below each category group, you will find the individual categories (4). Click the blue plus sign (5) to add a new category group.
With your new category group created, you can add a new category to it by clicking the blue plus sign (6). You can edit the name of your category group by clicking the light blue edit button (7), or you can delete it by clicking the red X button (8).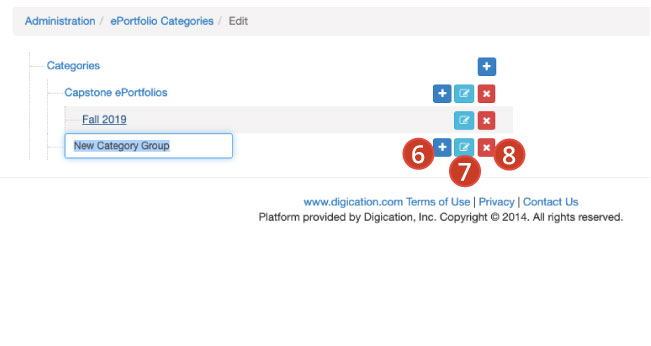 Once you add a new category, you will see the same options to Edit and Delete category.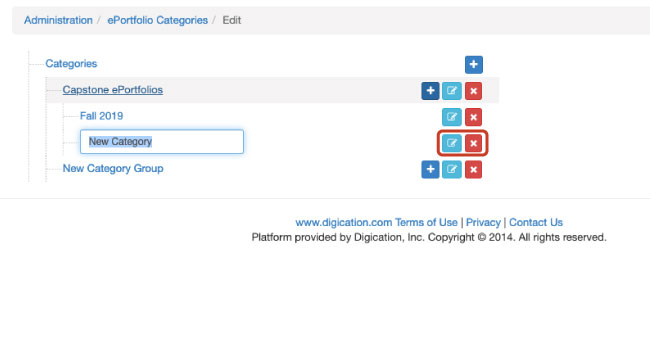 Once categories are added, they will be visible in the ePortfolio settings by toggling on the directory categories toggle.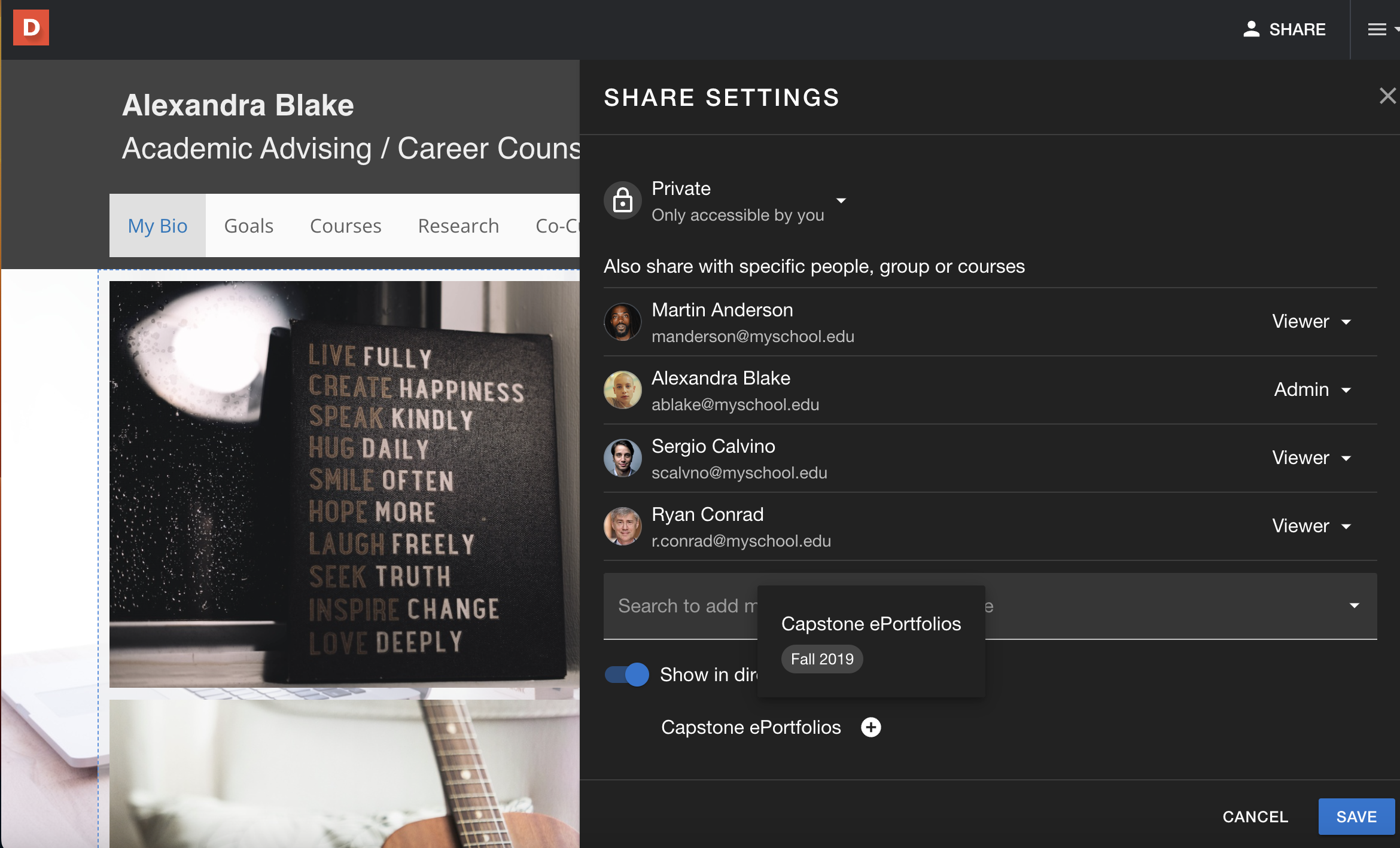 For more information on adding ePortfolio categories through the ePortfolio settings, please see the following article: ePortfolio Settings
Adding Categories to a Template
Categories can also be added to a template so that the resulting student ePortfolios created from the template will be automatically associated with the selected categories. To add categories to a template, first activate the toggle for "The following settings will be recommended to any users using this template" (1), and then the Show in directory toggle (2) during the "Template Default Settings" stage of the template set-up process.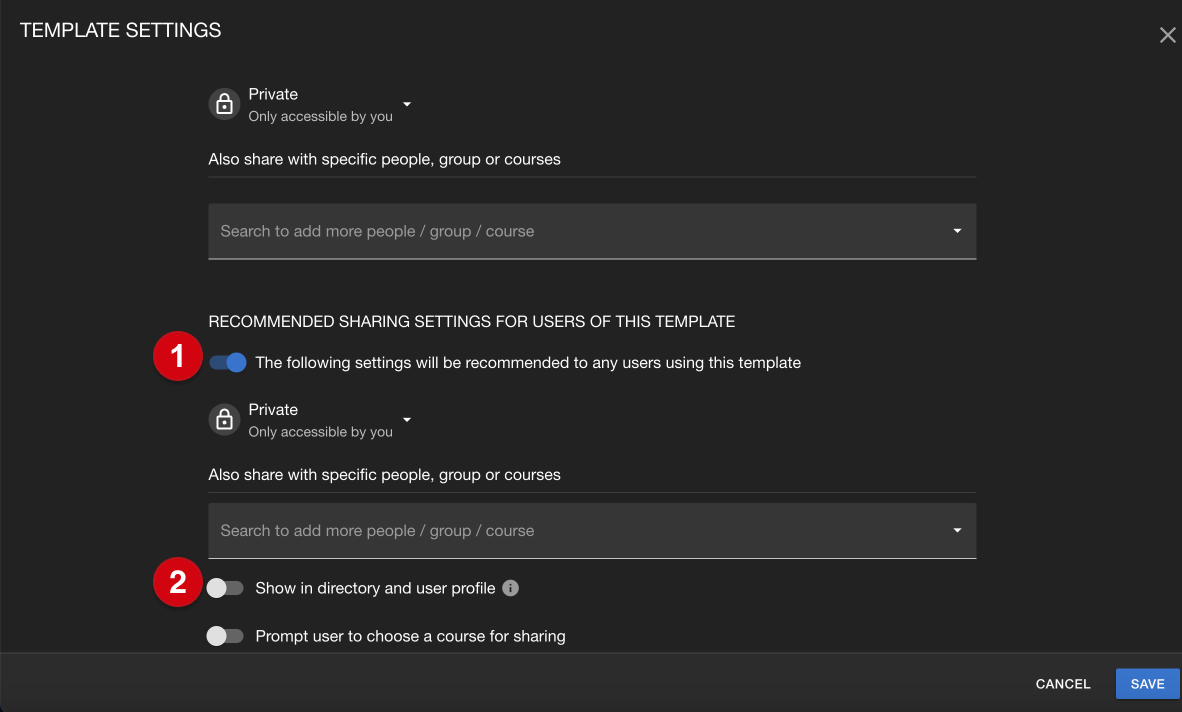 Click Directory Categories (+ icon) (3), then select the categories which you wish to add to the template (4). When you are done, click Save (5).