Whether you are a student, faculty member, or system admin, you may eventually need to update your account information. You can do so through your User Profile, which you will access by selecting the icon at the top of the navigation menu.

Please note: Depending on your school's system settings, you may not have the ability to manually update one or more of these settings.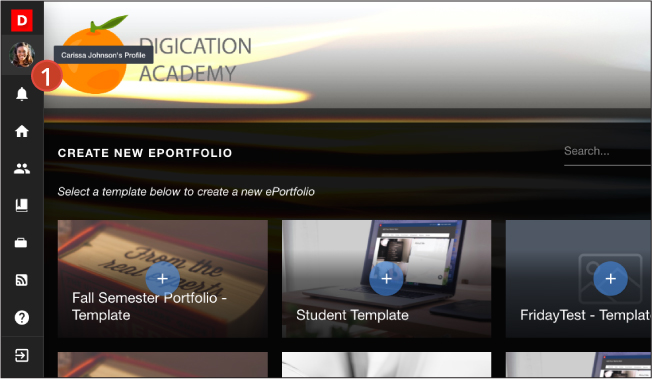 You will arrive at your User Profile. To update your information, select Manage Account (2).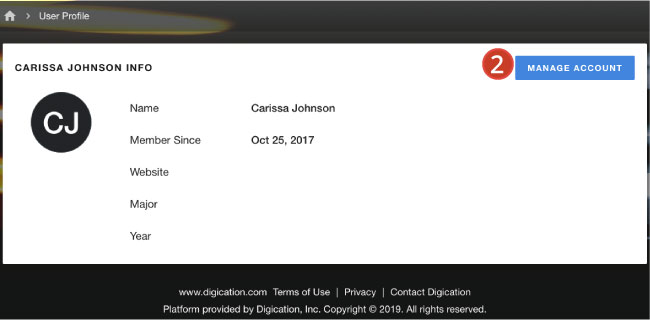 The Edit Profile area is divided into three sections, accessed through tabs at the top of the page: My Account (3), School Profile (4), Classic ePortfolio Settings (5), and Notification Settings (6).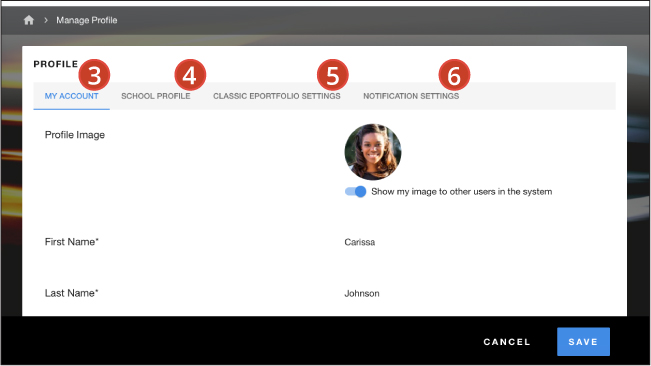 My Account
At the top of the My Account section, you can update your profile image. Click the circular profile icon containing your initials (1). This will open up your Library, where you can Upload a File. Using the toggle (2), you can decide whether or not to Show your profile image to other users in the system.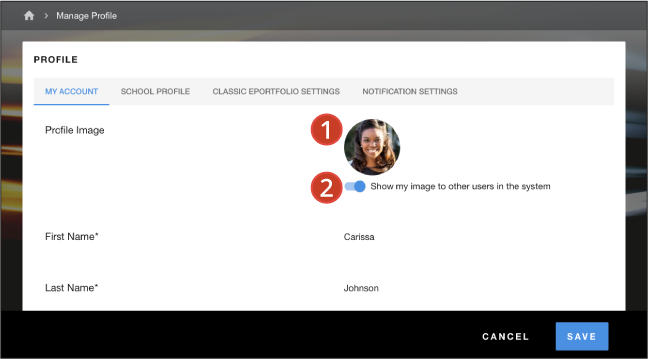 If your school uses the Digication native login, rather than a Single Sign On system, you can update your account password here (3). Your School Email (4), Notification Email (5), where you will receive communication from Digication, and your Digication Support Email (6), which is the email our Support team will see and respond to when you create a support request, can be updated here as well.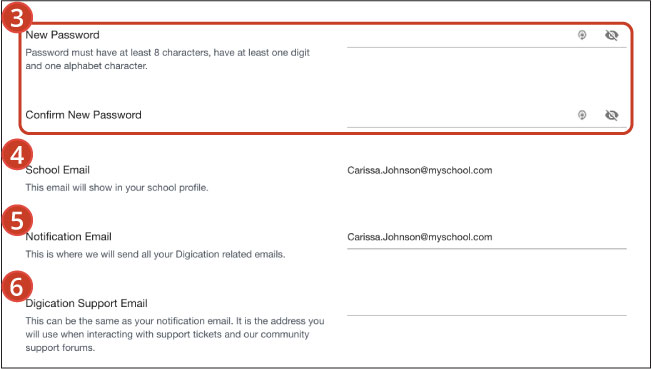 Next, you can update your personal Website (7), which will display in your User Profile, and your Timezone (8). Finally, you can use the toggle at the bottom of the My Account section (9) if you would like to hide yourself from searches in Digication.
For your own privacy, you have the right to remove yourself from the User Directory, and from the search results of other users in Digication. Please note, however, that selecting this option will prevent your professors from manually adding you to courses, and your peers from sharing ePortfolios with you. You will still be able to control the privacy levels of your own ePortfolios on an individual basis through the ePortfolio settings. If your ePortfolio is set to "Public," it can still be indexed by search engines. When you are finished making updates, don't forget to click Save (10).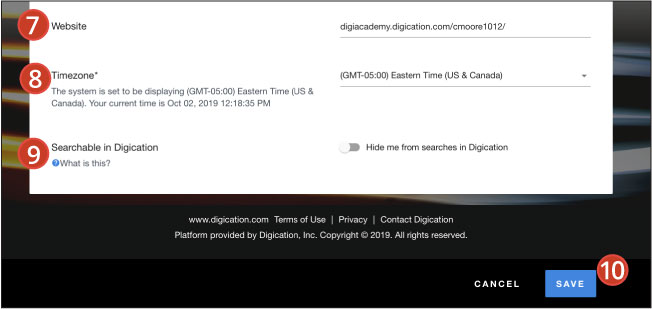 School Profile
The School Profile tab displays the information that other members of your school community will see when they access your profile. It includes any groups you have been added to by system administrators, your Major and Year if these were specified when your account was created, and your School Email. This information is typically populated by your school administrators, and is not able to be edited. If you see anything that should be changed, please contact us at support@digication.com.
Classic ePortfolio Settings
If you need to work with Classic ePortfolios (previous version of Digication ePortfolios), the Classic ePortfolio Settings tab allows you to determine who is able to comment within your ePortfolios (1), and whether or not the comments require your approval before they are displayed (2). When you are finished making updates, be sure to click Save (3).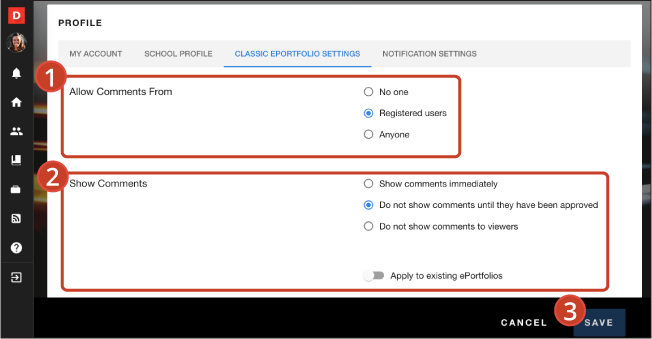 Notification Settings
The Notification Settings allows you to enable and disable each category of notification, and to control the frequency at which you will receive email notifications. For full documentation, click here.