Courses, Communities, and Assessment Groups can be created both through the Dashboard, and the Courses page.
To create a course from your Dashboard, go to the Courses section, below My ePortfolios, and select the blue Create button (1).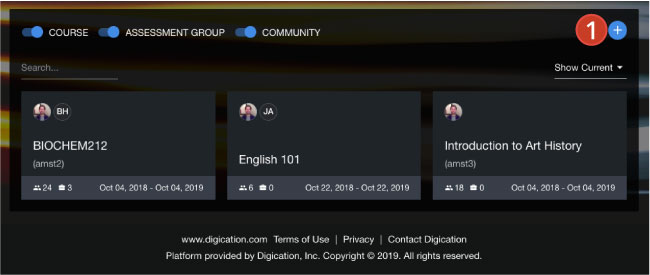 You will arrive at the Create Course page. First, you will need to designate whether you are creating a Course, Community, or Assessment Group (2). Though each of these have the same internal structure, the different labels allow for filtering and sorting, making it easier to keep courses separate from campus communities and faculty assessment groups.
Next, you will enter a Title (3), Course Number (4), and Short Description (5). The latter two are recommended, but not required.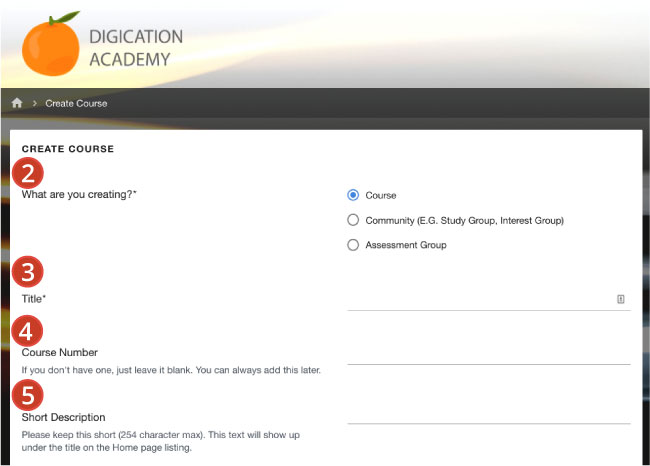 Next, you will set the dates that the course is available (6). Once the end date has passed, the course is archived, and can be accessed by selecting Show Archived from the dropdown menu in the Course window.
In the What tools do I need? section (7), all course tools will be selected by default. If you would like to disable any of them for any reason, you can do so here.
Using the toggle below, you can Allow students to enroll themselves (8). Doing so will cause the course to appear in the Enrollable Courses section of the Courses page. If you would like to require a password for self-enrollment, enter it in the space provided (9). Leave this space blank if you do not wish to require a password.
When you are finished, click Save (10) to finalize Course creation.