Digication Administrators have the ability to customize various aspects of their institution's Digication system related to Kora interface.
System Branding
You can customize the branding of your Digication system by uploading a background image and institution logo. These will display on all Kora pages for all users, giving it a look and feel unique to your institution, For instructions, see the following article: Uploading a System Background Image and Logo
Login Instructions
If you would like to provide specific login instructions for your users, you can do so within the login window. This could include reminders on how students should be logging in, or instructions for who to contact with login issues. For instructions on creating custom login instructions, please see the following article: Logging In
Login Page and Featured ePortfolios
The Login Page for your system features a section titled "Work Created by Our Community," where thumbnails of ePortfolios created in your system are displayed. By default, the ePortfolios displayed are prioritized by the amount of activity in the ePortfolio, but administrators can override this by choosing specific ePortfolios to display here. Similarly, administrators can choose to showcase specific ePortfolios within the Featured ePortfolios section of the ePortfolio Directory. For instructions on featuring specific ePortfolios on the Login Page and ePortfolio Directory, please see the following article: Featured ePortfolios
Footer
You can customize your system footer through the Administration tools. Basic HTML is supported, but JavaScript is not.
First, click the Administration Beta icon (1) on the navigation menu.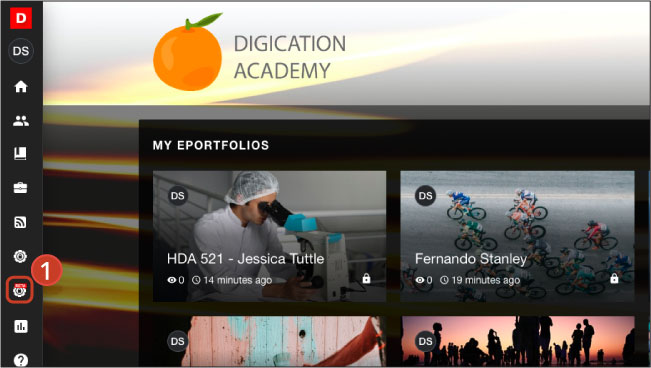 Select Settings (2) from the Administration options.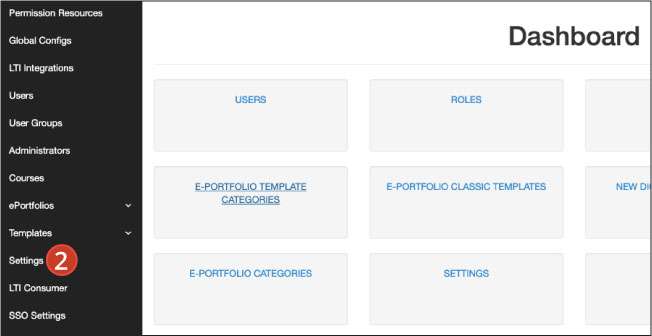 Scroll to the bottom of the Settings page, and select Edit (3).

Use the Footer HTML field to customize your system footer (4). By default, there is a link to www.digication.com. This can be updated or removed. When you are finished, click Save (5).