Dear Digication Administrators,
We are excited to announce today that we have released updates to New Digication. With this release there will be numerous updates as well as fixes to a number of bugs that were uncovered in the last release. Here's a summary of changes:


Updates: 
Option to remove previously selected color from pages, slides and modules

Changed ePortfolio settings title, grammar issues
Changed ePortfolio sharing custom permissions description
Changed background image option from "Parallax" to "Fixed", functionality the same
Increased size/icon of page menu item drag handles
Changed Add Content module from "Slide Section" to "Slide"
Changed "Style Library" icon and thumbnail
Changed "Submit" button language
Changed default height of page menu
Added default background image to new slides
Added backgrounds to all styles 
Added individual background opacity controls
Adjusted pre-defined styles
Adjusted image display settings
Added individual background opacity controls
Added option to remove background images
Added support of embedded content such as YouTube, SoundCloud, Prezi, etc.

Please note if your school has a custom embed it is not yet supported but we are working towards supporting them in the future. A list of supported embeds is available on our help desk.

Ability to add New Digication templates at system level (Admin Feature)
Additional content type display and content filter by search in Add Content page
Updated color scheme of the Add Content page (see screenshot below)
Add Content Page
 
The Add Content page includes more content options as well as the addition of a content type filter and view of recently used content types. This page also has a new color scheme that will be reflected through the updates we are making to New Digication. The content options listed on this page are not all active yet but will be soon. Stay tuned for updates!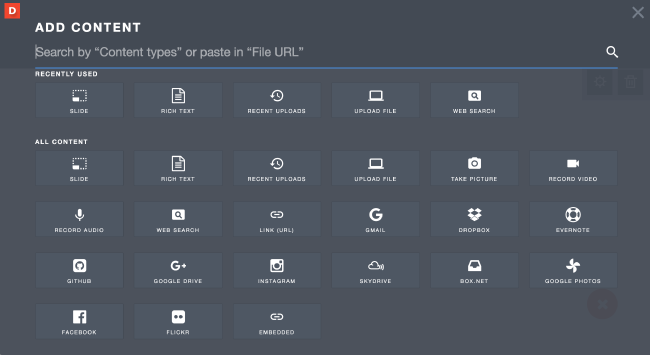 Bug Fixes:
Fixed module toolbar that was not showing up properly when a module had background color or image

Fixed bug that caused text modules to error if there was no content

Fixed bug allowing users to click a navigation item marked as a non-clickable "heading"

Fixed bug where page menu dropdown wouldn't show if the top-level page was a heading

Fixed bug where hidden pages were showing in published mode

Fixed hidden pages styling

Fixed bug where "show" link was not clickable on modules containing a background element

Fixed bug where deleted pages were not actually deleted from page menu

Fixed bug where deleted modules showed on the page until next refresh

Fixed auto-save sluggishness in page menu while editing menu items

Fixed bug where user should be redirected to a different page if they deleted the current page

Fixed inconsistent style brush icons in sidebar

Fixed bug where Upload window was not scrollable

Fixed bug where after hiding page navigation editing tools the show button became inactive

Fixed bug where background image opacity slider did not adjust opacity

Fixed bug where a sub-page page could not be published if parent page was a heading

Fixed bug where media module toolbar was not showing correctly

Fixed bug where dropdown menus were not showing up in published mode 

Fixed display bug where heading pages were not styled properly 

Fixed slide ordering bug where slides displayed out of order

Fixed bug where media modules were only clickable on edge

Added backgrounds and fonts for default style library


Our development team is working on hard on additional new features and fixes. We will keep you updated as these updates are ready for release. There will be many more changes to come. Once New Digication has reached maturity and planned features have been released the frequency of changes will be reduced and changes will be made with more advanced notice.

We would like to take this time to thank all of the schools that have been participating in exploring the early releases of New Digication. We appreciate your enthusiasm and support during this time. Your feedback has been enormously valuable to us!

Kind regards,
Your friends at Digication