Dear Digication Community,
We hope this message finds you well as the new semester approaches!  In keeping with our commitment to providing a two-week notice in advance of any changes to our user interface, we wanted to let you know about an upcoming improvement to our Organizer tool.
On Friday, August 30, we will be updating the ePortfolio Organizer to include the following language:
Drag and drop across the split-screen to make a copy of your content
To move content, drag and drop on the same side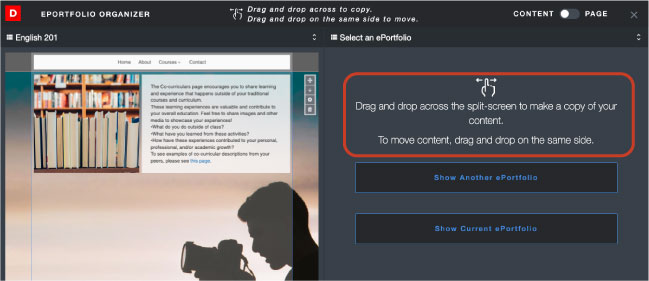 Additionally, when a module, slide, or page is dragged from one panel to the other, users will receive a notification that they are creating a copy of the content.
The core-functionality of the Organizer will remain unchanged. For further information, please see the following Help Desk article:  ePortfolio Organizer.  Our documentation will be updated to reflect these changes at the time they are implemented.
If you have questions or feedback, as always, we encourage you to reach out to our team at support@digication.com.
Kind Regards,
Your Friends at Digication